Discography
A Season of Carols • Collaborations
A Season of Carols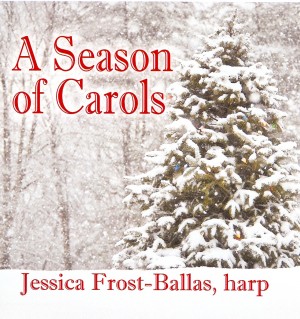 Jessica's debut solo album is a collection of traditional Christmas carols.
"…a sparkling mix of familiar and not-so familiar pieces.  Each arrangement is thoughtfully composed and beautifully executed.  The perfect addition to your holiday playlist…" - Lynne Ellings
CDs can be purchased through iTunes or CD Baby.  A portion of all sales will benefit Northern Virginia Sheltie Rescue.
Track Listing:
Sing We Now of Christmas
Silent Night…Still, Still, Still
O Come, O Come Emmanuel
Joy to the World
I Wonder as I Wander
O Come, All Ye Faithful
We Three Kings…March of the Kings
O Holy Night
The First Noel
The Coventry Carol
Angels We Have Heard on High
What Child is This
We Wish You a Merry Christmas
Collaborations
Jessica Frost-Ballas also performs on Madeline MacNeil's Christmas CD, Heaven and Angels Sing.  It's been said that Madeline MacNeil's audiences hold their collective breath as the last notes of her songs drift into the tableau of stages large and small. Since 1972, when she began performing in Virginia's Shenandoah National Park, Madeline's goal has always been to bring listeners into the song. Her interest in stories first brought the mountain and hammered dulcimers to her attention, for they are part of this country's musical history and the heritage of other countries before they arrived here. This is part of Madeline's treasure as a performer: she sings and tells the stories with her beautiful voice and exceptional dulcimer skills.  Jessica performs on the pedal harp accompanying Madeline on J.S. Bach and Charles Gounod's classic "Ave Maria." CDs can be purchased here.
Jessica Frost-Ballas is also a featured artist on several CDs produced by the Shenandoah Valley Choral Society.  CDs can be purchased here.  She performs on the following CDs:
Saint-Saens' Christmas Oratorio
Handel's Messiah/Rutter's Magnificat
Parker's Melodious Accord/St. Cecelia Mass
Britten's Ceremony of Carols